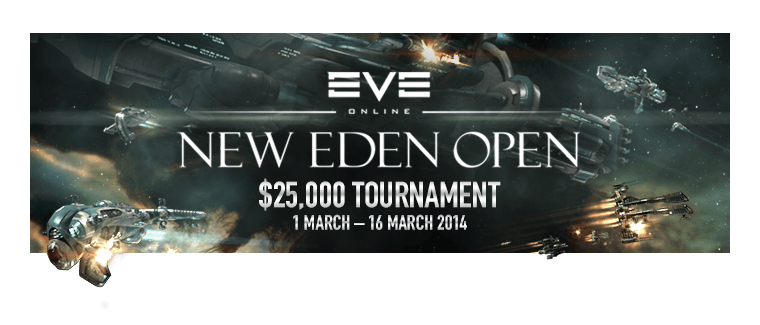 The New Eden Open II Tournament
The New Eden Open is one of the flag ship tournaments in EVE Online offering capsuleers the opportunity of winning real life cash prizes by being the best fighter pilots in New Eden. This year the second annual New eden Open will be held where the premiere PVP experts will put their skills to the test in an 8 v 8 deathmatch format.
The New Eden Open II will take place over three consecutive weekends starting on Saturday, March 1st and ending with the grand finale on Sunday, March 16th. The action will follow a double elimination format and at the end of the tournament one of the 32 teams will be crowned the New Eden Open II tournament champions. The whole show will be streamed live and for free on CCP Games' Twitch channel, so make sure to follow that channel to get instant notifications on when it goes live and the action starts!
Prizes
This year the prize pool for the New Eden Open has more than doubled in size bringing it to a total sum of $25,000 to be distributed in the following way:
1st place: $12,000
2nd place: $8,000
3rd place: $5,000
On top of that all the PLEX gathered in the silent auction for spots in the tournament will also be given out as prizes and distributed in the following way:
1st place: 50% of PLEX
2nd place: 30% of PLEX
3rd place: 20% of PLEX
It is clear that there is a lot to win the New Eden Open II so make sure you tune in to watch the action as it unfolds.
Below are the 32 teams that have qualified for participation in this years New Eden Open! Congratulations to all the teams that made it in and good luck!
Defending Champions
Asine Hitama's Team
Silent Auction

The 28 teams listed below successfully bid for entry into the New Eden Open Tournament in the silent auction.
Random Draw

The 3 teams selected for entry into the New Eden Open Tournament by random draw are listed below.